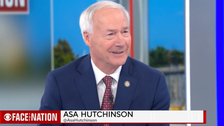 Republican presidential candidate Asa Hutchinson on Sunday called out some of his 2024 rivals for pledging to pardon front-runner Donald Trump if they get elected.
"I think that anybody who promises pardons during the presidential campaign is not serving our system of justice well, and it's inappropriate," Hutchinson told CBS' "Face the Nation."
Hutchinson's criticism follows Nikki Haley's comments that she would be open to pardoning Trump, who's being prosecuted on serious felony charges, "in the best interest of the country."
"We've got to quit living in the past, and I don't want there to be all of this division over the fact that we have a president serving years in jail over a documents trial," Haley told CBS' Margaret Brennan on Sunday. "I want all of this to go away."
Trump has been indicted twice, first in New York over his role in a hush money payment scheme prior to the 2016 presidential election, followed by the Justice Department for his alleged mishandling of classified documents after leaving the White House.
Special counsel Jack Smith last week filed a superseding indictment in that case, alleging the former president ordered his aides to delete Mar-a-Lago surveillance video "to prevent the footage from being provided to a federal grand jury."
Trump said he also expects to be indicted in the federal probe of his attempts to reverse his 2020 election defeat. In addition, a prosecutor in Georgia said she's close to deciding whether to bring charges against Trump and his associates for trying to change President Joe Biden's victory in that state.
Vivek Ramaswamy, another GOP presidential hopeful, has also pledged to pardon the former president despite the latest federal crimes Trump is accused of committing.
Ramaswamy told CNN's "State of the Union" one of the best ways for the country to move forward is "to pardon the former president of the United States from what is clearly a politicized prosecution."
Meanwhile, Trump over the weekend called his 2024 rivals "clowns" and urged them to drop out of the race.
Hutchinson is one of the few Republican presidential hopefuls to openly criticize Trump and call on him to step down amid his legal troubles.
Will Hurd, another Republican candidate, drew boos over the weekend for telling an Iowa crowd that Trump is seeking another term in office "to stay out of prison." Chris Christie, who is not campaigning in Iowa, also has been harshly critical of Trump.