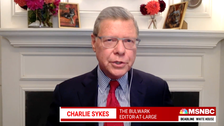 Conservative commentator Charlie Sykes said Republicans are trying to "flood the zone with shit" with their newly announced impeachment inquiry into President Joe Biden.
"To speak pure Steve Bannon: The goal here is to flood the zone with shit to devalue impeachments by making sure that everybody is impeached."
He was quoting former Trump adviser Bannon, who once said the media, not Democrats, are Republicans' real opponents, and "the way to deal with them is to flood the zone with shit."
"We're about to go into a very, very messy month," Sykes said. "This is going to be Kevin McCarthy's month from hell. Unfortunately, he appears willing to drag the rest of the country with him."
House Republicans have been investigating allegations of corruption against Biden in connection to his son Hunter Biden's foreign business dealings. They have not produced any evidence of wrongdoing by the elder Biden.