Effective termination meetings require a delicate balance of empathy, professionalism and compliance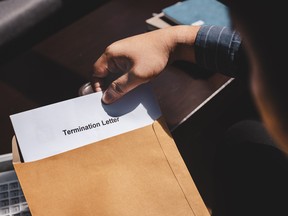 Article content
By Howard Levitt and Gregory Sills
Article content
As one would expect, termination meetings are among the most challenging and sensitive events to navigate in the workplace. By nature, they are stress-inducing and can send tremors through even the most seasoned professionals.
Article content
Fraught with emotions and legal implications, effective termination meetings require a delicate balance of empathy, professionalism and compliance. All three of those are critical because straying from this approach can instantly put the matter on a collision course with litigation.
An employer generally has one major advantage over an employee in such a dynamic: the ability to prepare. Despite this, I am regularly consulted by employers who made the decision to terminate someone and, rather than prepare and consult legal counsel in advance, elected to immediately act on the decision.
Article content
In most circumstances, the difference between removing someone from the workplace today versus tomorrow is negligible, so why rush it?
By taking the time to prepare a termination package in advance, an employer can ensure it is not running afoul of any statutory or contractual requirements that can have costly consequences if not perfectly complied with.
Preparation also allows the employer to determine what additional offerings (if any) will be included in the termination package, many of which are viewed favourably in the courtroom. For example, the willingness to provide a positive letter of reference and outplacement counselling services demonstrates an employer made legitimate efforts to assist an employee's attempts to secure alternative employment.
Article content
Once in the termination meeting, the pressure is on the employer to keep emotions in check by remaining calm in their tone and compassionate in their communications.
Express appreciation for the employee's contributions and acknowledge their efforts where appropriate, but otherwise keep the communications simple and to the point. Contrary to popular belief, in the case of a termination without cause, the employer is not under any obligation to provide a rationale for the decision, so don't.
As a matter of prudence, an employer should have two people in attendance. One to conduct the meeting, and another to be a witness and take notes of what was said. These notes come in handy in the event of litigation, but the mere presence of a notetaker often produces a more tempered response from a terminated employee.
Article content
Finally, an employer should provide the employee with a reasonable opportunity to review the termination package in private and with the assistance of their own legal counsel. The last thing an employer should do is pressure a terminated employee to sign off on their package at the time of the termination meeting, as it can lead to future allegations of duress, which has the potential to render the settlement unenforceable.
On the other side of the table, employees face an entirely different set of challenges and considerations at the time of termination.
The first and most obvious challenge for an individual is to maintain composure and professionalism in the wake of overwhelming news. In these difficult times, it is imperative that they remain calm and listen carefully to what the employer is saying, as the information being communicated may impact litigation down the road. To this end, much like the employer, an employee should be taking notes, which can have the added benefit of serving as a distraction from the stress of the moment.
Article content
In a similar vein, if you have questions, ask. The employer may not provide answers to your satisfaction, but you never know when their response may have value in litigation.
As an employee, the single most important thing to keep in mind is that you should not, under any circumstances, sign the offer and release on the spot.
It is far too easy to misread or misunderstand something when you are under extreme stress. The last thing you want is to be forced to later make an argument that the parties did not have the same understanding of the terms of the settlement.
Best practices dictate that you step away from the document for the day and read it with fresh eyes the next morning. Once you have a few hours' distance from the termination meeting, seek advice from an employment lawyer, who will be best equipped to assess whether or not the package being offered is fair in the circumstances.
Article content
Finally, when exiting the meeting and premises, do so with grace. You may be filled with rage, grief, frustration or any number of other emotions, but your future self will appreciate it if you hold it together and keep your head held high. After all, you still have a brand and reputation to maintain.
Regardless of what side of the table you are sitting on, termination meetings are difficult for all in attendance. By conducting these meetings as outlined above, both parties can move forward in a respectful manner and best position themselves for a resolution that can hopefully resolve without issue, though sometimes litigation is inevitable.
Howard Levitt is senior partner of Levitt Sheikh, employment and labour lawyers with offices in Toronto and Hamilton. He practices employment law in eight provinces. He is the author of six books including the Law of Dismissal in Canada. Gregory Sills is a partner at of Levitt Sheikh.