Dubai hotels offer summer deals to keep rooms booked, while Saudi Arabia puts on a show in Paris.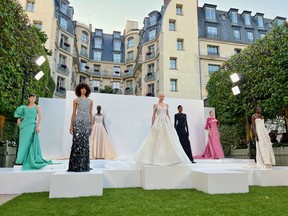 Article content
(Bloomberg) — Hi, it's Lisa Fleisher, your luxury correspondent for the Middle East. I've been asking hoteliers and restaurateurs in the region how business has been this summer, the low season in many countries here. They say it's about as good as can be expected. Room rates are down, but people are still filling up rooms, especially in Dubai. (More on that later.)
Article content
Some of the more interesting and newsworthy events have been happening outside the region, such as a Saudi fashion event in Paris this month. (Again, more below.)
Article content
First, a bit of news that brings me back to my days as a striving millennial in New York, paying for a gym membership I couldn't really afford. That's right, Equinox.
New York's Iconic Gym Moves Into Saudi Arabia
An Equinox Hotel designed by Foster + Partners is being planned for a swanky resort area on the Red Sea in Saudi Arabia.
It will be one of 29 hotels expected to be built in an area called Amaala, which describes itself as a "wellness haven" spread across 4,155 sq km (1,604 sq mi) focusing on natural landscapes, local culture, wellness and art. Other international brands that have signed on include Six Senses and Rosewood. The first resort could open by 2024 as Saudi Arabia rapidly develops its brand-new tourism industry.
Article content
It's an interesting move for Related Cos.-owned Equinox, which is known for its upscale gyms and expanded into hotels in 2019, with its first one in Manhattan's Hudson Yards. Plans for some other sites have fallen through or been abandoned, such as one planned for Los Angeles that is now a Conrad. Another was slated for a Miami development that was shot down last year by voters. (Saudi Arabia doesn't pose that risk.)
The Equinox Resort Amaala will have 128 rooms and several restaurants (or "culinary concepts," as a press release describes them,) a spa, beach club, gym and a magnesium salt rooftop pool.
Amaala pledges to be run 100% on renewable energy once fully open. Red Sea Global, the government-controlled developer of the region, will own the hotel while Equinox will operate it, a common arrangement in the Gulf.
Article content
Saudi Arabia Boosts Support for Fashion Industry
A Saudi fashion show in Paris earlier this month was a typical affair for a Paris Fashion Week: Guests—some wearing abayas and head coverings, some not—sipped Champagne and ate hors d'oeuvres at the Ritz before models came out wearing designs from some top designers from Saudi Arabia.
Back in Riyadh or Jeddah, the atmosphere isn't quite this liberal. Still, the amount of social change that has taken place in recent years is palpable. "If someone went to jail six years ago and came out today, they'd think they probably lost their mind," says Yousef Akbar, a Saudi designer who splits his time between Australia and the Saudi city Jeddah. "Things have been opening up. I've never had anyone say, 'Oh, I can only wear it there or here.' It's just so nice to see. So refreshing."
Article content
Akbar is one of the designers supported by the Saudi Fashion Commission, a government agency that is trying to organize and boost the industry, from retail to haute couture, domestically and internationally. The task isn't as simple as throwing a bunch of money together and signing Cristiano Ronaldo. Designers say they haven't gotten cash infusions but are helped in other ways, such as through events like the one at the Ritz. "There's a lot of things that are happening that money can't buy," Akbar says. "Sometimes you don't need, like, an actual cash for it to be special."
For the commission, success doesn't necessarily mean landing a Saudi fashion designer's work on the cover of an international edition of Vogue, says Burak Cakmak, the commissions' chief executive officer.
Article content
He wants to help local designers like Akbar understand how to succeed internationally, but he also wants the world to recognize the range of Saudi design talent and understand Saudi consumer preferences.
"It's a market that people don't understand, especially from a business perspective," he says of Saudi Arabia. "International brands have to understand: What does the customer want, when do they want it, and how do they want it?" For example, figuring out products would be appropriate and timed right for Ramadan, he says.
Get Me Out of Here
People who are staying in Dubai this summer can get great deals on luxury hotel rooms: Atlantis the Royal dropped its two-night minimum. A room at the Bulgari hotel was available for $530—less than half of what it charges in January and a third of what rooms are going for in November.
Article content
A lot of people take advantage: Dubai's luxury hotel room occupancy in June was 65%, with an average daily rate of about $270, the envy of the region: Abu Dhabi's luxury hotel occupancy was 54%, Saudi Arabia's was 52% and Qatar's was 44%, according to travel data company CoStar, formerly known as STR.
Those who want to get out don't have a huge preference as to where they do it. The destination with the largest increase in interest now versus 2019 for travel dates in July was: "everywhere," according to Skyscanner. The Scotland-based company tells Bloomberg that people in the United Arab Emirates earlier this year searched "everywhere" when looking for July vacations—147% more than they did pre-pandemic. 
Compared with 2022, it's no surprise that searches for Japan increased the most, with a 472% increase for travel dates in August, for example. Why? The country only fully reopened its borders to vaccinated travelers last October, much later than most of the rest of the world. There seems to be pent-up demand: Searches for travel to Japan were up 85% for dates in August compared with 2019, before the Covid-19 pandemic, Skyscanner says.
Article content
More Middle East Luxury News
Dubai surpassed 2019 visitor levels in the first half of the year with 8.5 million people (the  National)
Israel makes it easier for US citizens who live in the occupied West Bank to travel to Israel in exchange for a chance to get visa-free travel to the US (Reuters)
What it's like in Nikki Beach Dubai's $18,000-a-night Celebration Suite (Conde Nast Traveller)
Dubai chef Reif Othman opens his new Korean restaurant, Hoe Lee Kow (!); so far, the feedback is excellent (Instagram)
Other Bloomberg Pursuits Stories You Should See
Omega raises luxury watch prices as other Swatch brands struggle
Richard Branson just opened his Mallorca estate to the public. Here's a look inside
New ranking lists the world's 50 best vineyards to visit
These 10 airports are the most chaotic in Europe this summer