Former first lady Rosalynn Carter, wife of former President Jimmy Carter, died on Sunday at 96, according to The Carter Center.
Rosalynn Carter was diagnosed with dementia in May. She entered hospice care in November, according to a statement from her grandson Jason Carter sent out by The Carter Center, which the couple founded in 1982.
Rosalynn Carter was the first lady from 1977 to 1981 and was a torch-bearing mental health advocate. She was an active honorary chair of the President's Commission on Mental Health, according to The Carter Center.
Before Jimmy Carter's presidency, he was governor of Georgia. As the state's first lady, Rosalynn Carter served on the Governor's Commission to Improve Services for the Mentally and Emotionally Handicapped. Around that time, she also traveled alone to various states across the country for her husband's presidential campaign.
"I love it. I love campaigning. I had the best time. I was in all the states in the United States. I campaigned solid every day the last time we ran," she told The Associated Press in 2021.
Rosalynn Carter is a 2001 National Women Hall of Fame inductee and has seven honorary degrees. She was also an advocate of women's rights and vaccination access for preventable diseases, Georgia Public Broadcasting reported.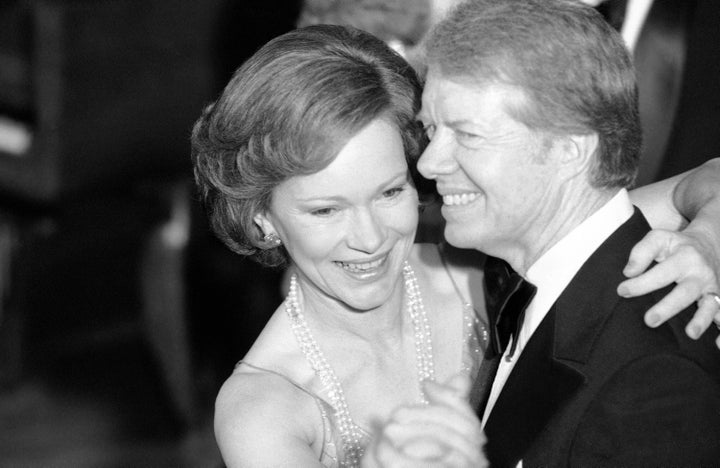 Rosalynn Carter was born in Plains, Georgia, on Aug. 18, 1927, to Allethea Murray Smith and Wilburn Edgar Smith. She was the oldest of four children, helping her mother care for her siblings after her father died when she was 13 years old.
She and Jimmy Carter married in 1946, and have four kids, 12 grandchildren and 14 great-grandchildren. The couple celebrated their 75th anniversary in 2021.