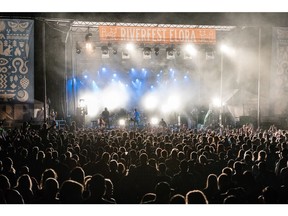 Article content
Elora, Ontario, Canada, July 31, 2023 (GLOBE NEWSWIRE) — "Riverfest is an artist's dream."
Article content
Wes Marskell of Canadian rock band duo The Darcys has overwhelmingly positive remarks about the group's experience playing Riverfest in Elora, Ontario, Canada, calling it "hands down, our favourite festival to play."
Article content
Riverfest Owner and President Jon Ralston has heard similar statements multiple times over the years from various headliners and artists at the event, which is gearing up for its 13th year on August 18, 19, and 20 in Elora's Bissell Park. This year's event is headlined by Metric, Feist, and The Reklaws.
Emily Haines of Canadian indie band Metric commented that Riverfest "stands out as something very special in my summer festival memories, it's such a gorgeous setting for a concert. This will be our first time back since 2015 and I know it's going to be a beautiful night of music under the stars."
Article content
"We get calls from agents of these bands who've heard how good it is from others who've played here, and they're asking us to put their band in next year's lineup," said Ralston.
"It's exciting to be the festival that artists want to play at."
The Darcys' Marskell also noted: "Every year the organizers manage to punch above their weight, bringing in marquee talent to a festival that still feels organic and authentic."
102.1 The Edge broadcaster and music journalist Alan Cross agrees.
"Riverfest Elora is one of the little gems on the live music calendar each summer. . .it regularly books an impressive array of acts from across the country. It's really one of the best intimate festival experiences you can have," he said.
Article content
Ralston attributes multiple aspects to the festival's exceptional reputation, including impeccable organization, a dense lineup of artists, and a strong vision to create an experience unmatched by other music events.
"We are the festival even the bigger bands will bring their entire families to," he said.
"We've got this intimate backyard party vibe that the audience and the bands both love. There's nothing like it in Ontario, maybe even Canada."
Touring artists often describe Riverfest's unique atmosphere as more akin to European festivals than those in North America. The event boasts an idyllic setting on Bissell Park's riverfront.
"You're on a beautiful grassy riverfront surrounded by trees, which can be a welcome change from festival events you might see in Toronto or other cities," said Ralston.
Article content
"When you're here, it's hard to believe you're in the middle of a village, but downtown Elora is right there outside the grounds."
The festival typically attracts approximately 16,000-18,000 attendees, the majority located throughout southern Ontario and northeastern USA states; however, tickets have historically been purchased from as far as South America, Europe, and Asia.
Ralston noted the ease of travel to the festival's location and ample choice of nearby accommodations in Elora, the neighbouring community of Fergus, and the city of Guelph, including hotels, B&Bs, and campgrounds.
"Whether folks are coming west from Toronto, east from Kitchener-Waterloo, or anywhere else, getting here is easy and there is plenty of choice for places to stay," he said.
Article content
Riverfest began in 2009 as a backyard fundraiser to support the Elora Centre for the Arts. The festival's Koop stage is a nod to the event's original founder, Marilyn Koop. Many consider Riverfest to be one of the area's major events that puts Elora on the map, as its location offers attendees the chance to explore "Ontario's most beautiful village."
The village of Elora sits within the township of Centre Wellington and features a multitude of 19th-century limestone architecture among its many restaurants and shops, as well as beautiful parks such as Bissell Park, where the festival grounds are located. The area is also home to the popular Elora Gorge Conservation Area and Elora Quarry.
Elora maintains a bustling arts scene and has long offered exhibitions, workshops, and events across a wide range of creative arts, including music.
Article content
"We honour and uphold the fact that Riverfest is truly homegrown in Elora and came out of our art scene," said Spencer Shewen, Riverfest's Executive & Artistic Director.
"It's not some faceless event that originated elsewhere and was dropped into our town. It's owned and operated by locals, and we strive to partner with local vendors and suppliers."
This year, the festival has taken on an additional partner, Fergus local R. Jason Ashdown.
"Jason brings to the table his passion for live music, arts, and community support within Centre Wellington —as well as 25-plus years of business expertise as a Co-Founder of Skyline Group of Companies based in Guelph," said Ralston.
"He has small town roots in Fergus and understands the organic aspects that set Riverfest apart. Jason has long been an ambassador for strong, connected communities and believes Riverfest is a very unique asset that brings people together in a positive and cool way. With Jason on board, Riverfest is well positioned for many years to come."
Article content
Riverfest is a participant in the Keychange Pledge for more diverse representation in the global music industry. This year's three headline groups, Metric, Feist, and the Reklaws, are all female-led. The three-day event will showcase a total of 47 acts, all but two Canadian, with a mix of local, national, and international touring artists.
Those who want to keep the party going in the evening can choose from seven different afterparties (three on Friday and Saturday; one on Sunday), all located in downtown Elora.
Riverfest 2023 tickets are currently 70% sold out.
"People are getting this trifecta of a world-class lineup at exceptional value, in an intimate setting you wouldn't get elsewhere, and at an unbeatable location that's easy to get to," said Ralston.
"For anyone on the fence about whether to go: you want to be here."
Riverfest tickets can be purchased at RiverfestElora.com.
Attachments