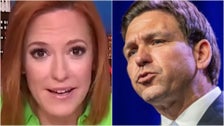 Psaki's mocking concern drove a segment that totally skewered DeSantis' sputtering attempt to win the Republican presidential nomination.
"So lately as I've been watching the way Florida Gov. Ron DeSantis is running his presidential campaign, there is a question that has been running through my mind: Are you OK, Governor? I mean, for real, are you good?" said Psaki, a former White House press secretary under President Joe Biden.
"It's OK if you don't actually want to run for president. It's completely OK," she added.
Psaki said it was difficult to arrive at any other conclusion because of DeSantis' "bizarre" campaign.
She thrashed DeSantis for overspending on the trail like a "teen pop star," especially on private plane travel. She also took him to task for his state's new school curriculum, which teaches that slaves benefited by learning skills. This prompted a rebuke from South Carolina's Tim Scott — the only Black Republican in the Senate — who said, "There is no silver lining in slavery."
In another head-scratcher, Psaki noted that DeSantis floated the idea of appointing Democratic anti-vaxxer candidate Robert F. Kennedy Jr. to lead the Food and Drug Administration or the Centers for Disease Control and Prevention. (DeSantis has tried to walk that one back.)
"DeSantis is floundering in the polls, burning through cash, defending the merits of slavery, floating jobs for conspiracy theorist Democrats," she said. "It's enough to make you wonder if this whole campaign is really a cry for help. Does he really want to do it?"