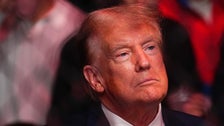 Assistant Attorney General Kevin Wallace slipped the dig into a letter to Judge Arthur Engoron Thursday, clarifying the timeline for the state's formal response to the "spurious allegations" in Trump's mistrial motion.
Trump's attorneys filed for a mistrial Wednesday, arguing Engoron and his law clerk have shown a "tangible and overwhelming" bias against the 2024 Republican presidential front-runner.
Among their grievances: a gag order Engoron placed Trump under after he began attacking Engoron's law clerk on social media.
Trump repeatedly violated the order, going so far as to post a photo of the clerk on Truth Social and wonder if, in this "overheated [political] climate," they might face "serious physical harm, and worse."
Trump has already been found guilty of fraud. In the first half of the trial, Engoron found Trump had deceived banks, insurers and others for decades by exaggerating his wealth to secure favorable loans and lower insurance costs, among other benefits.
This second part of the trial will determine Trump's penalty for doing so, including his ability to continue operating a business in New York and up to a $250 million penalty.
Read Wallace's letter, below: