A small business owner and mom of three drew criticism — but mostly support — when she opted not to give up her window seat to another traveling mom while on an early morning flight last month.
In a TikTok video, which has grabbed 3.4 million views and over 89,000 likes, Tammy Nelson of Cincinnati, Ohio, asked, "What would you do?" 
She proceeded to explain why she did not feel obligated to switch seats with a woman who wanted to sit beside her children, who appeared to be teenagers.
On June 19, Nelson boarded a Delta Airlines flight from Cincinnati to San Jose, California, where she was to give a presentation on behalf of her jewelry company, CONQUERing.
MOM OF 2 YOUNG KIDS GETS 'HUGE STINK EYE' WHEN SHE FIGHTS FOR FAMILY'S ASSIGNED SEATS ON PLANE
She said she had been up preparing for most of the night and was counting on getting some rest during the flight — in the window seat she had pre-selected, as usual.
"It was a very early flight," Nelson told Fox News Digital. "It was a 6 a.m. flight and when I arrived at my seat, there was a woman sitting in the seat and I thought, 'Oh, you know, it's early. I didn't get much sleep. I must've looked at my boarding pass incorrectly.'"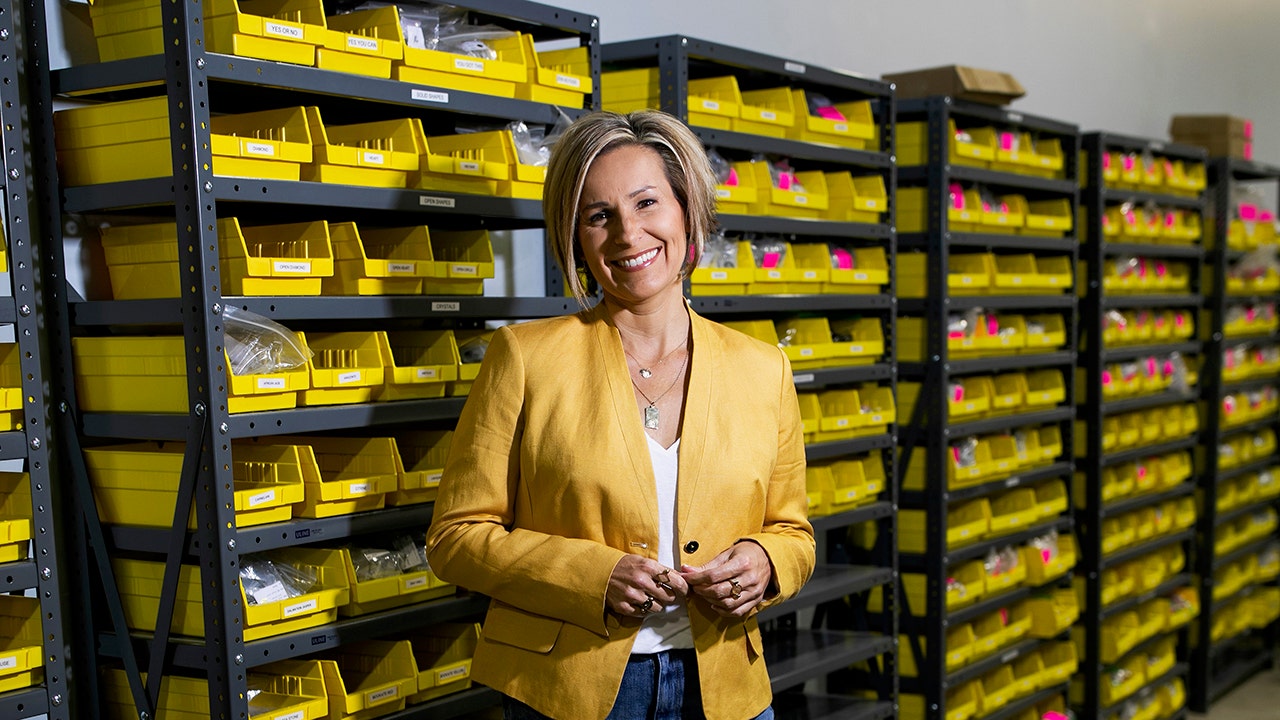 Nelson said she pulled up her Delta app and discovered that she was not mistaken — and that the woman was sitting in her seat.
"So I just thought she must have made a mistake," Nelson said.
TEEN AIRLINE PASSENGER CHANGES SEAT AFTER 'PLUS-SIZED' TRAVELERS CROWD HER, GETS GRIEF FOR 'FATPHOBIA'
"So I said, 'I'm sorry, it looks like you're sitting in my seat.'"
Nelson went on, "And she said, 'Oh, you want to sit here?' And I thought that was such an odd question. So, I said, 'Yeah, that's the seat I selected.'"
@myconquering Having had only 90 minutes of sleep the night before and knowing I had to give a presentation to 500 people, I desperately needed some sleep, so I did not agree to switch seats. 🤷‍♀️ Before anyone comes after me… the kids looked like they were about 11 and 15 years old. And the mom was in arms-reach of both of them from the middle seat in the row behind us. The mom proceeded to complain for at least 15 minutes to the person next to her loud enough for me to hear. But the woman actually defended me – several times. It was so kind and I appreciated it so much because I was feeling really guilty. 🤦‍♀️ ##airplaneseat##seatswitching##airplanekarens ♬ original sound – MyCONQUERing 
The woman went on to say that she thought they could switch because her children were seated in the other two seats in that row, according to Nelson.
"She pointed to the two seats next to her and there was a boy that looked to be about 15ish, and then a girl that looked like maybe she was about 11," Nelson said. 
"I thought that was a weird way to ask me to switch seats. But, you know, I'm a mom, too," she added. 
TIKTOK USER SHARES 'HACK' FOR OBTAINING A WHOLE ROW OF AIRPLANE SEATS TO HIMSELF: 'POOR MAN'S FIRST CLASS'
"I have three kids, and so I know it's nice to sit by your family."
Nelson told the woman she would be happy to switch with her — as long as she was in a window seat.
"She said, 'Oh, yeah, my seat's right here,'" Nelson said. 
"And she pointed to the row right behind my seat. She said, 'I'm right here.' So I looked and there was already someone sitting in the window and the aisle, and there sat the empty middle seat."
Nelson explained again that she would be happy to swap for a window seat because she needed some sleep — and also she would suffer from motion sickness if she couldn't see out the window. 
"She kind of huffed and puffed and got up and made a little scene heading back to her seat."
So, Nelson politely told the woman she would need to stick with her original seat, she said. 
MAN ON BRITISH AIRWAYS FLIGHT SAYS HE ENDED UP ON NEAR-EMPTY PLANE; TIKTOK VIDEOS SHOW UNCLAIMED SEATS
"That's when she got pretty annoyed," Nelson said. 
"It wasn't a fight or anything, but she certainly kind of huffed and puffed and got up and made a little scene heading back to her seat. But eventually she sat in her correct seat right behind the kids and me."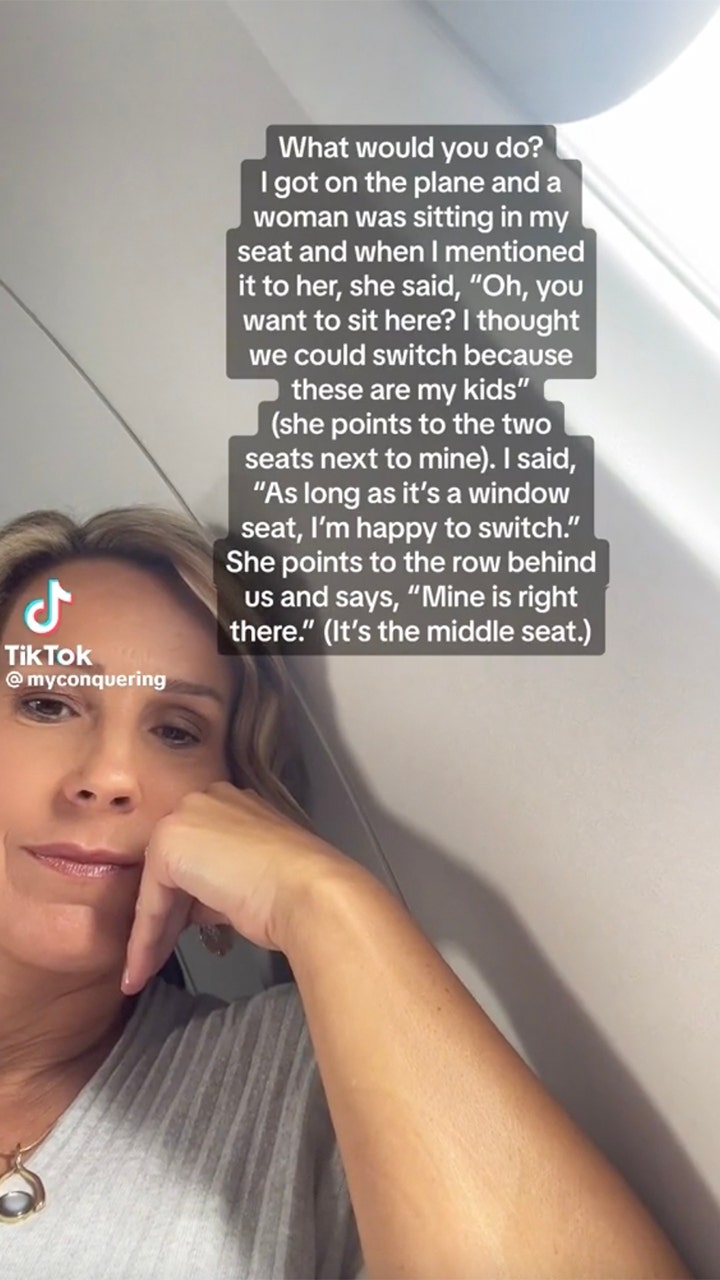 Nelson said the woman then began to complain to the person next to her — someone who was a stranger to both women but who was sitting in the window seat. 
"I was feeling guilty," Nelson said. "Just because as a mom, I want to sit by my kids. But when I want to sit by my kids, I plan ahead and select seats together, or I'll pay for them if I have to."
"She just kept wanting to complain."
Added Nelson, "Worst case, I'll talk to the gate agent before I board to see if they can do something. And ultimately, I've sat apart from my kids many times, especially at that age."
TIKTOK USER'S 'UNETHICAL' PLANE 'LIFE HACK' TO PUNISH RECLINED SEAT PASSENGERS GOES VIRAL: 'FULL BLAST'
Nelson said she overheard the stranger in the seat next to the woman being "very supportive" of her.
"She just kept wanting to complain and hoped that someone would kind of agree with her," Nelson said.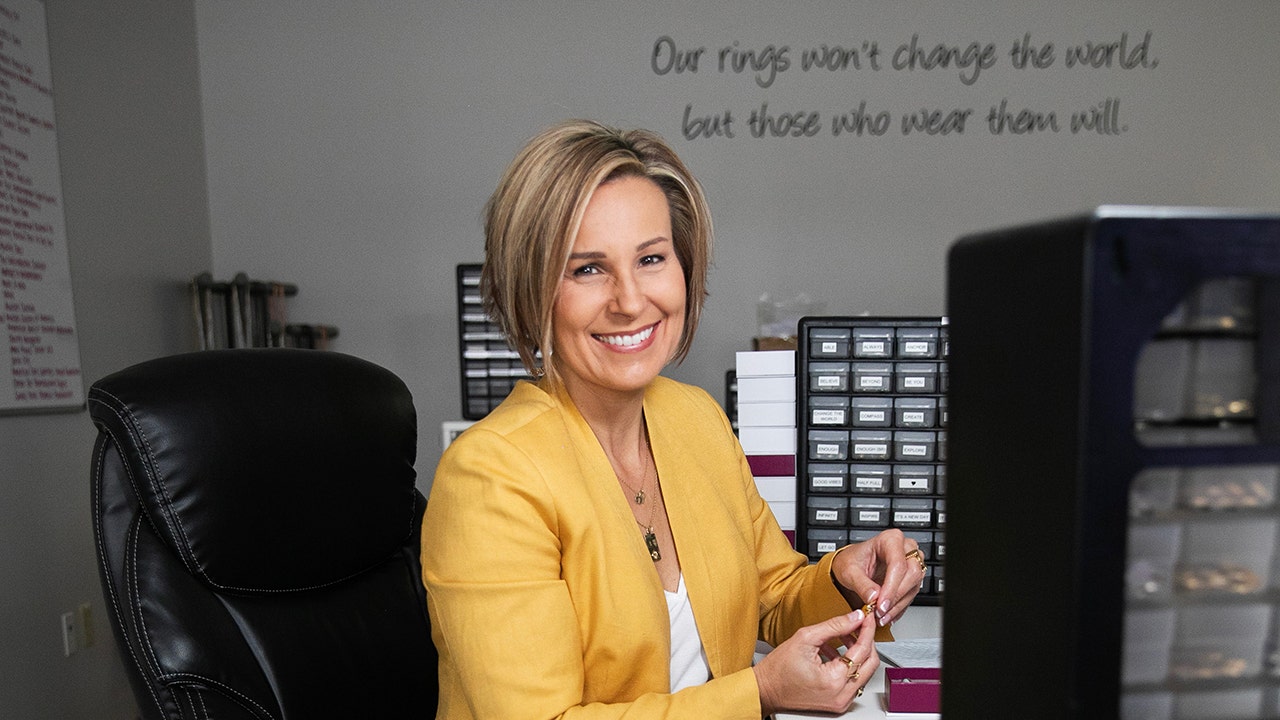 "But the person behind was kind of like, 'Well, I understand why she wouldn't want to switch. People pay for their seats and select their seats in advance, and nobody wants a middle seat, you know?'"
Some of Nelson's TikTok viewers appeared to agree.
FLIGHT PASSENGER'S 'MANSPREADING' BEHAVIOR GETS LITTLE SYMPATHY FROM OTHERS: 'DOESN'T GIVE YOU THE RIGHT'
"People should book seats together if they want to sit together," one commenter said.
"Nope. If it's not an upgrade, it's a sacrifice," said another.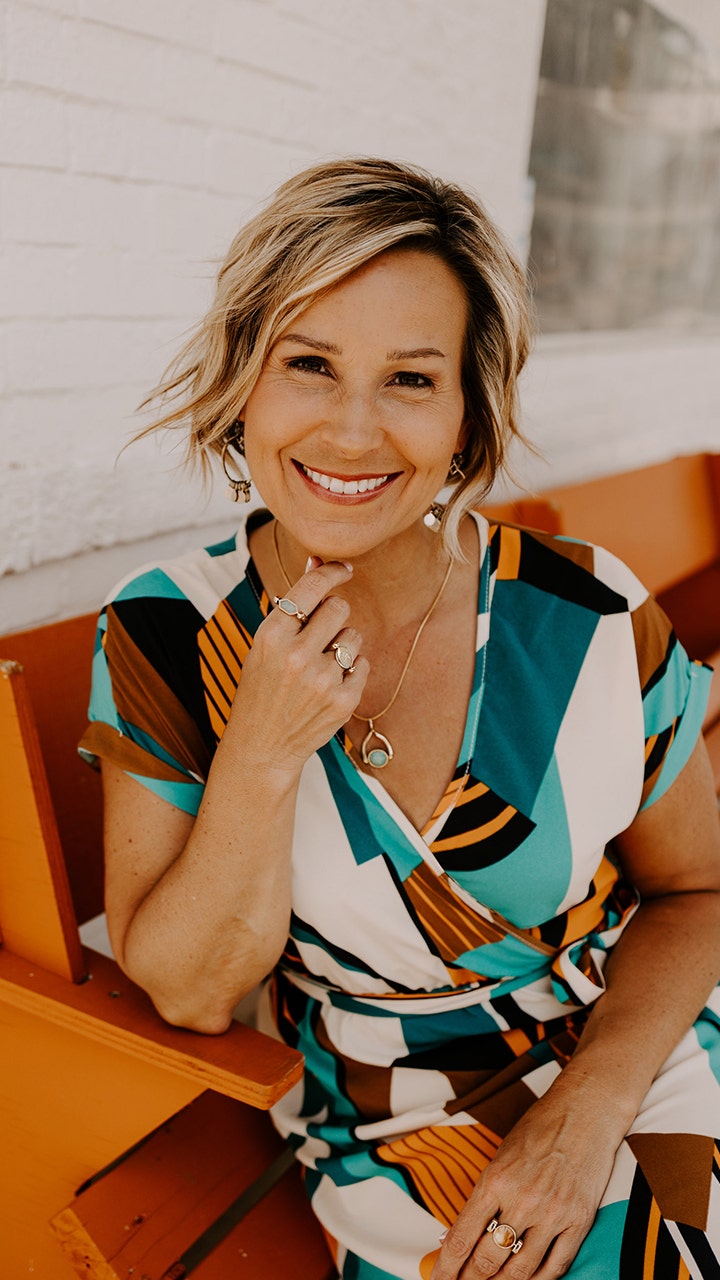 "As a single person who is often asked to compromise because of my 'singledom,' I applaud you," another person commented.
Etiquette consultant Sarah Aynesworth of Waco, Texas, told Fox News Digital that Nelson was well within her rights to retain her original window seat.
"Having good manners does not mean you are a doormat," said Aynesworth, who has certifications from The Protocol School of Washington, the Emily Post Institute and The Etiquette and Leadership Etiquette. 
FLORIDA WOMAN UNBOXES 13 PIECES OF LUGGAGE AFTER DELTA AIR LINES DAMAGES HER SUITCASE: 'I WAS CRYING LAUGHING'
"It is respect for yourself and your boundaries, as well as those of others," added Aynesworth. 
She said that Nelson's ability to stay calm, consider the situation and communicate her needs was key.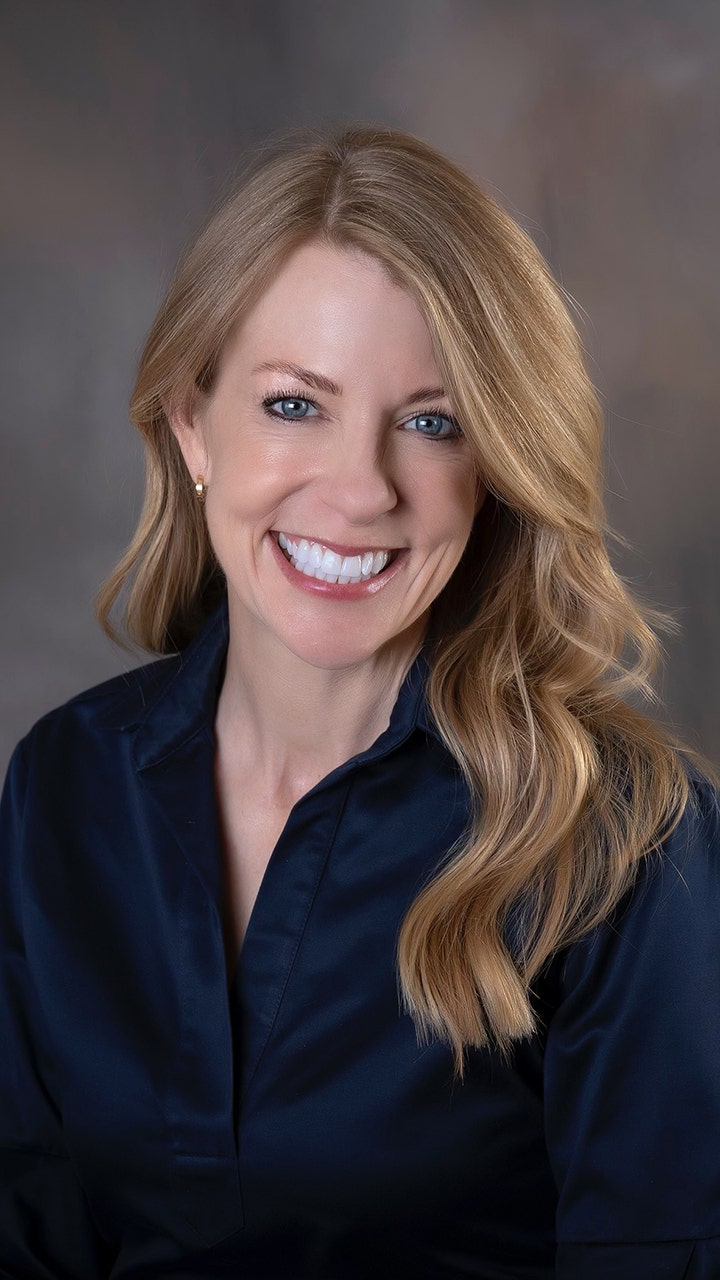 "It's never what you say, but rather how you say it," Aynesworth noted. 
"Politely saying, very unemotionally, 'I don't want to switch seats for a middle seat. I chose this seat because I need to get sleep before we land and the window seat allows me to sleep more than the others' — end of story. You've stated your needs and set your boundaries. Part of protecting and respecting yourself is to refuse to get caught up in a stranger's drama."
Aynesworth went on, "The woman should have reserved a row for the three of them."
CLICK HERE TO SIGN UP FOR OUR LIFESTYLE NEWSLETTER
Once her TikTok video picked up some news coverage, Nelson said she felt some scrutiny, but nothing that made her rethink her decision.
"But it does make me feel like maybe I should just stick to posting about jewelry," she said, laughing.
"As a mom of three and a business owner, I am always putting everybody else first," Nelson said.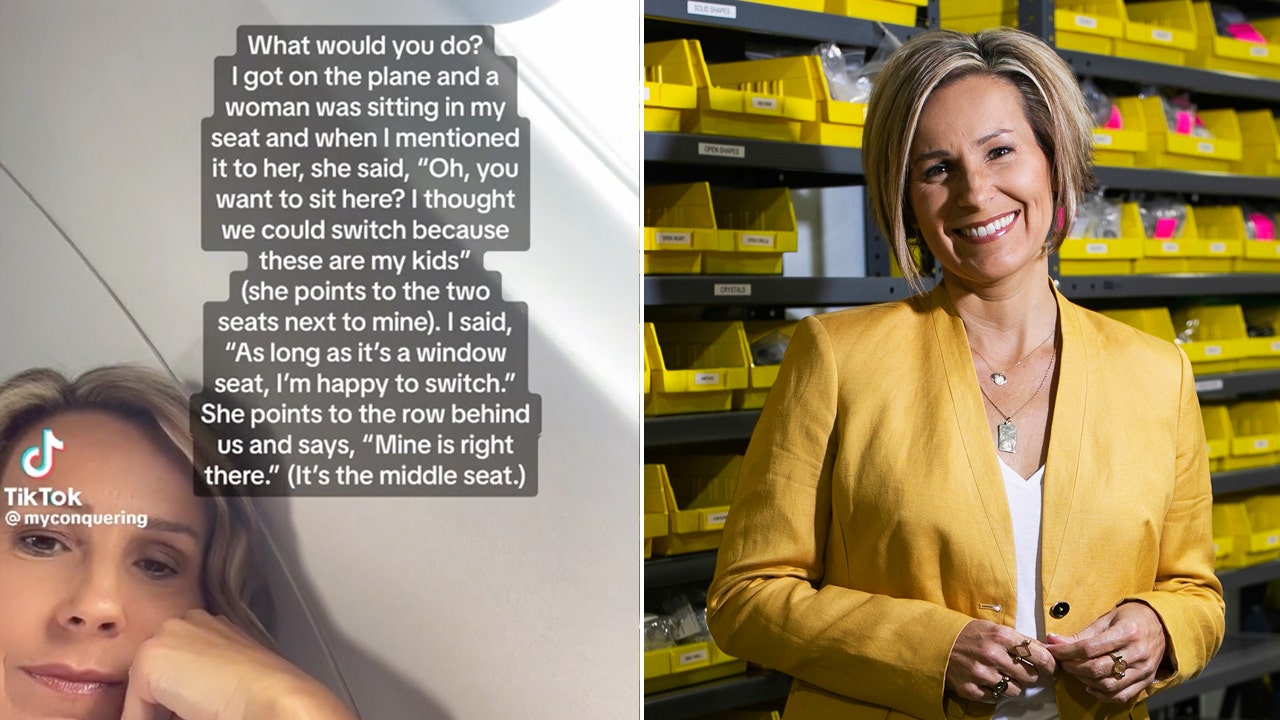 Nelson, whose company sells rings that help people "conquer their day," said she always tries to lead with kindness and consider someone's request. 
"And that's what I did," Nelson said. 
CLICK HERE TO GET THE FOX NEWS APP
"I did offer to change seats. I would've gone all the way to the back of the plane for her as long as I was able to sleep and I had a window seat and wouldn't be motion sick."
Added Nelson, "You have to make the best choice in the situation. And it doesn't always have to be doing what someone else wants you to do."