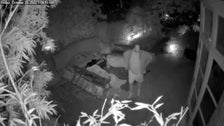 The man accused of attacking the husband of former House Speaker Nancy Pelosi with a hammer told jurors on Tuesday that he was influenced by far-right conspiracies.
David DePape is accused of breaking into the couple's San Francisco home in October 2022 and confronting 82-year-old Paul Pelosi, allegedly asking him "Where's Nancy?" before brutally beating him with a hammer.
DePape reportedly sobbed at times while testifying at his trial, and said he was influenced to attack Pelosi and other Democratic leaders by far-right conspiracies. DePape said he wanted to interrogate Nancy Pelosi because he believed there were government-backed plots against then-President Donald Trump, Politico reported.
"I wanted to use her to expose the truth," DePape testified. "If she lied, I would break her kneecaps."
Listening to Lindsay also led DePape to incorrectly believe that a University of Michigan professor was trying to "turn our schools into pedophile molestation factories," he testified.
"Give me your fucking hand," an officer could be heard yelling in the video.
In testimony on Monday, Pelosi told jurors he tried to "stay as calm as possible" during the confrontation with DePape.
"The door opened and a very large man came in with a hammer in one hand and some ties in the other," Pelosi testified. "It was a tremendous sense of shock to recognize that somebody had broken into the house and looking at him and looking at the hammer and the ties, I recognized that I was in serious danger, so I tried to stay as calm as possible."
DePape faces a federal charge of assault on an immediate family member of a federal official and another federal charge of attempted kidnapping of a federal official. He has pleaded not guilty to the charges.