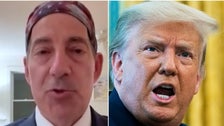 John Lauro, an attorney for Trump, called the indictment "an attack on free speech and political advocacy" during a CNN interview.
But Raskin said on MSNBC that Trump's speech has nothing to do with it.
It's his actions that led to the indictment.
"You have a right to say, for example, 'Oh, I think that the meeting of the House and the Senate in joint session to count Electoral College votes is a fraud or is taking away Donald Trump's presidency.' You can say whatever you want," Raskin said. "But the minute you actually try to obstruct the meeting of Congress, you crossed over from speech to conduct."
He offered another example:
"It's like, y'know, you can say, 'Well, I think the currency is phony and everybody should be allowed to make up their own money.' You can say that. But the minute you start printing your own money, now you've run afoul of the counterfeit laws. And it's the exact same thing with the Electoral College."
In this case, he said, Trump didn't simply express ideas about the election with his debunked claims of fraud but also assembled "counterfeit electors" to attempt to substitute for the real electors.
"At that point, they've crossed over from speech to conduct," he said.
Raskin said the Jan. 6 committee last year accused Trump of aiding and abetting and giving aid and comfort to insurrectionists ― but special counsel Jack Smith didn't charge the former president on that count.
He said he believes it so prosecutors don't have to argue on grounds of speech and can focus entirely on conduct.
Raskin called the evidence against the former president "overwhelming."
See more of his discussion on MSNBC below: