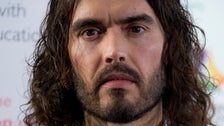 English actor and comedian Russell Brand faces allegations of rape, sexual assault and abusive behavior in the wake of a joint investigation by multiple United Kingdom-based news outlets.
Four women say that Brand assaulted them, according to an investigation by The Sunday Times, The Times and Channel 4 Dispatches published on Saturday.
Brand emphatically denied any criminal conduct in a video he posted before the investigation was published, saying he was simply "very, very promiscuous" at one point in his life.
This is a developing story. Please check back for updates.