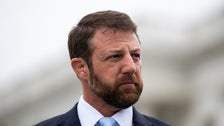 During an interview Wednesday on CNN, host Dana Bash asked Mullin why he touched his wedding ring as he got to his feet during Tuesday's altercation with Teamsters union boss Sean O'Brien, according to a clip posted by Mediaite.
Mullin, a former MMA fighter, said he wanted to make sure he didn't hurt his hand when hitting O'Brien.
"First thing I thought of when I stood up, I thought, I'm gonna break my hand on this guy's face, I'm gonna take my wedding ring off," he said. "Because when you're fighting, you learn how to punch correctly."
"You actually thought you were going to come to blows in that moment?" Bash asked incredulously.
Mullin replied, "I had full intentions of doing that, absolutely."
"You don't call me out… and not back it up with what you said," he said.
He's since stood by his actions in several media appearances, including an interview on Fox News when he told Sean Hannity his constituents would have been upset if he didn't behave the way he did.
"I'm supposed to represent Oklahoma values," he told Hannity.
The spat kicked off because Mullin was upset about O'Brien's mean tweets about him on X (formerly Twitter). So, Mullin challenged the labor union president to "finish it here" and "stand your butt up."