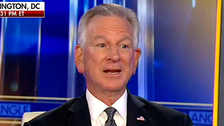 Sen. Tommy Tuberville (R-Ala.) said Wednesday that poetry is proof the Navy needs to root out "wokeness." (Watch the video below.)
"We've got people doing poems on aircraft carriers over the loudspeaker," he said to Laura Ingraham on Fox News Wednesday.
The right-wing senator has been widely criticized for blocking military promotions to protest the Pentagon's policy of supplying service members with paid leave and travel costs to get an abortion in another state.
Tuberville attempted to defend his monthslong blockade by fighting the culture war on "wokeness."
"Right now we are so woke in the military, we are losing recruits right and left," he said. "Secretary [Carlos] Del Toro of the Navy he needs to get to building ships; he needs to get to recruiting; and he needs to get wokeness out of our Navy. We've got people doing poems on aircraft carriers over the loudspeaker. It is absolutely insane the direction that we're headed in our military."
Del Toro this week accused the Alabama senator of "aiding and abetting communists" with his promotions blockade in an interview. Del Toro also wrote in a Wall Street Journal opinion piece along with the secretaries of the Army and Air Force that Tuberville's holdup is putting the nation's security at risk and placing military families in limbo.
Tuberville did not specify the instance of Navy personnel reciting poetry on a ship. But he was likely referring to a spoken-word event on the USS Gerald Ford hosted by the Gay, Lesbian, and Supporting Sailors (G.L.A.S.S.) association in November. Tuberville previously griped about a nonbinary junior officer praising that gathering.