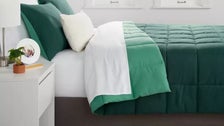 If you've got a child headed off to college soon, the list of things they need for their dorm room may be growing longer than an CVS receipt, and every new item comes with its own set of dollar signs. One area where the cost can really add is up is bedding. Dormitory sleeping quarters often require specialty bedding, and you may not be looking to part with any comforter you actually like, knowing your bedding may be exposed to some questionable communal-life activities.
If you want to outfit your kid's sleeping arrangement without spending a mint, we've got good news: There's a popular mid-weight comforter on sale at Target right now that reviewers say is worth stocking up on.
Longtime Target customers [raises hand] will recognize the cozy-looking comforter, which has been a staple of the retailer's assortment of affordable bedding for a while. It's available in a twin size that's currently 20% off and that promises to fit an extra-long twin bed, too. (In addition, the queen size comforter is 17% off or you can get 14% off king-bed dimensions.)
The blanket's microfiber exterior is available in a slew of versatile colors — from eye-catching hues like blue and teal to minimalist-approved black — and it's reversible, meaning that there's an added layer of customization available for style-conscious students. The box quilting adds a dose of nostalgic texture, and there's just enough polyester batting to offer insulation for all-season use, with most reviewers indicating that it's an ideal layer for warmer months.
It has over 2,000 ratings on Target's website, with 90% of them five-star or four-star ratings. If you'd like to read more about how reviewers are using this all-purpose bedding, scroll on — or just go ahead and add this highly-rated comforter to your cart just in time for school to start.
"I LOVE this comforter! If I lived in a cold climate (are there any left?) I might think this comforter is a bit thin, but I live in Florida, and I think it's PERFECT! It's just warm enough and doesn't feel heavy. I just love crawling into bed at night and feeling just a bit of weight on me. Also, I love the outside fabric (microfiber?) … it's very soft and cozy." — Cando

"I bought 2 of these for my girls room. They're the best and softest comforters. Yes they're thin but also super soft and comfortable. Perfect year around. I'm not sure what others are doing to tear theirs up but we have had ours for a year and a half and still look brand new. No issues at all. Also love that you can choose either side. 2 in 1! Great buy!" — LP

"My fiance and I are currently building our wedding gift registry, but we're not even contemplating replacing this trusty comforter! It's so soft, perfect as a base layer with a throw over it in the winter and light enough to better regulate temps in the summer. It's also so cheap that our cat unintentionally marking it up kneading with his claws is fine with us. Overall we will be buying this again and again. It washes great too!" — CA

"Perfect weight for the warmer months. I needed to switch out my heavier comforter from winter when transitioning to warmer spring weather. This fit the bill. It's lightweight but still fluffy and cozy. Washes and dries well! Plus, the reversible option is fun so you don't get tired of one color." — haley