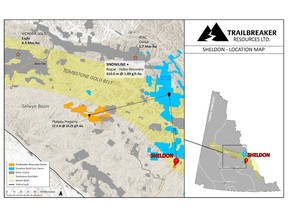 Article content
VANCOUVER, British Columbia, July 31, 2023 (GLOBE NEWSWIRE) — Trailbreaker Resources Ltd. (TBK.V) ("Trailbreaker" or "the Company") is pleased to announce it has now added the 919-hectare (ha) Sheldon property, located in central Yukon, as part of its robust property portfolio.
Article content
The Sheldon property covers a "Reduced Intrusion Related Gold System" (RIRGS), located within the Tombstone Gold Belt of the Selwyn Basin. The Tombstone Belt is host to gold (Au)-bearing prospects and deposits including: Snowline Gold's Valley discovery (e.g. 410.0 m @ 1.89 g/t Au)1; Kinross Gold's Fort Knox mine (10 million ounces of gold, including past production)2 and Victoria Gold's Eagle mine (4.3 million ounces of gold)3.
Article content
The property is located along the North Canol Road approximately 110 km northeast of the town of Ross River (Figure 1). The property has excellent infrastructure with road access within 800 m of the property boundary.
Highlights of the Sheldon Property
Located within the geologically fertile and highly prospective Tombstone Gold Belt of the mining-friendly Yukon Territory;
Road accessible via the North Canol Road, approximately 110 km northeast of Ross River;
Historic rock samples assayed up to 6.17 g/t Au;
Reduced-Intrusion Related Gold System (RIRGS) style mineralization evident on the property, with many characteristic RIRGS geological features;
Underexplored, with a number of strong geochemical and geophysical targets identified;
100% owned by Trailbreaker Resources, with no underlying payments or royalties.
Article content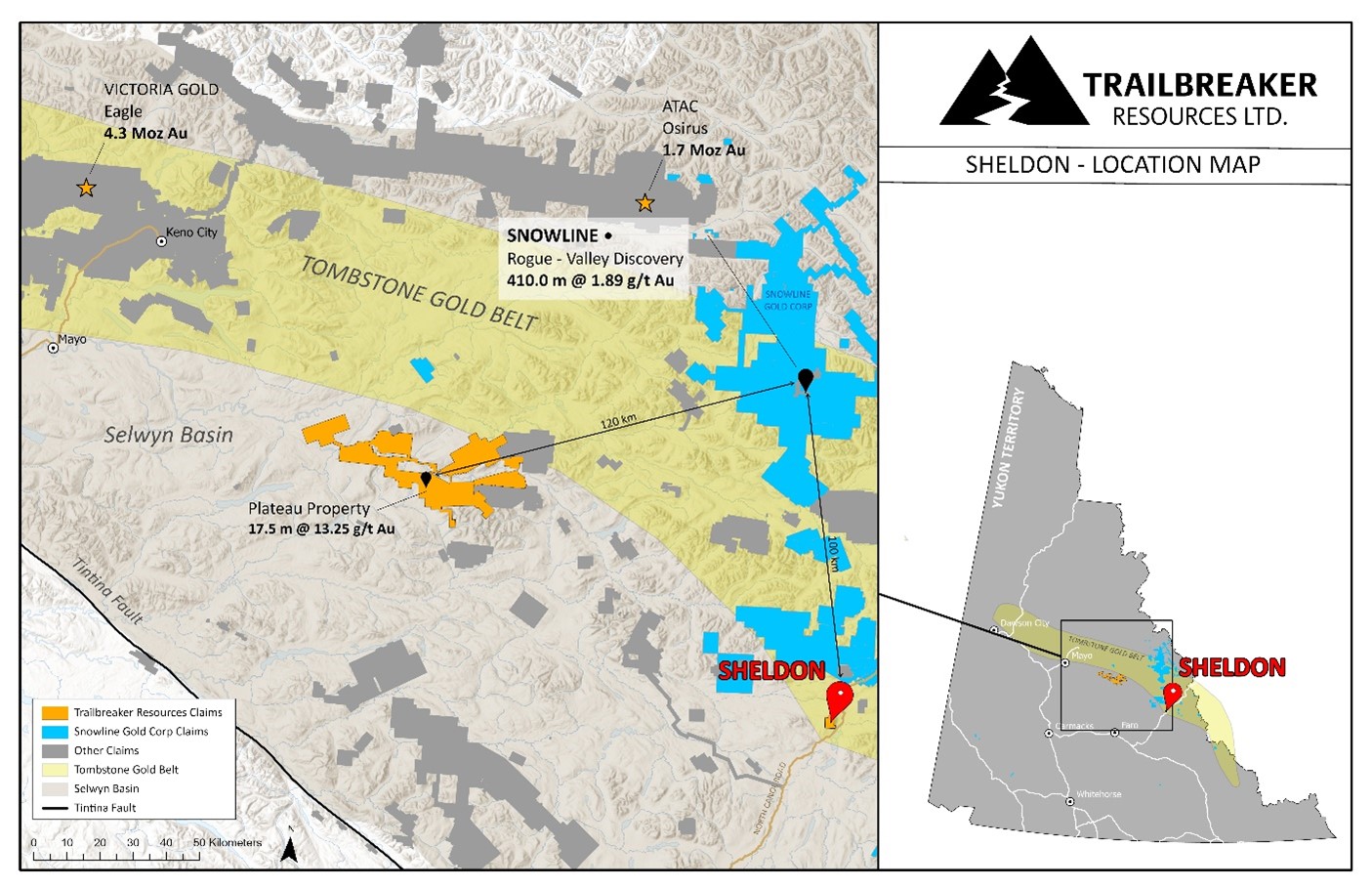 Figure 1: Location of the Sheldon property within the Tombstone Gold Belt and the Selwyn Basin.
Exploration Potential
The Sheldon property is underexplored and has undergone only short surface sampling campaigns between the early 1990s and 2012.
A regional-scale Z-Axis Tipper Electromagnetic (ZTEM) survey was flown over a significant portion of the Selwyn Basin in 2008. This data was reprocessed by Condor Consulting in 20134 and made publicly available by the Yukon Geological Survey. The data from this survey shows magnetic and conductivity characteristics across the Sheldon property that are common in RIRGS deposits. These features include a high resistivity signature associated with the felsic intrusive rocks and magnetic high features surrounding the intrusions, associated with pyrrhotite-bearing hornfelsed sedimentary rocks. Of particular interest are two magnetic 'pimples' within the claim boundaries that may reflect strongly hornfelsed rocks above a blind intrusion (Figure 2). As the highest grades of RIRGS mineralization commonly occur in upper portions of fertile intrusions, the potentially intact carapace in the northwest and southeast property areas highlight attractive exploration targets. Neither of these target areas have undergone any documented exploration .
Article content
Most geochemical sampling and mapping to date has been focused on the southern extent of the Sheldon Stock, where gold mineralization was first encountered. Although less geochemical coverage occurred along the northern flank of the stock, the more limited work revealed consistently elevated gold values from rock and soil sampling. Additionally, this area has the best correlation between gold (Au) and tellurium (Te), a robust pathfinder element for Au in RIRGSs. The spacing between sampling in this area is such that a significant deposit could occur between sample locations, based on the approximate footprint of other RIRGS deposits (Figure 3), including Snowline Gold's Valley prospect.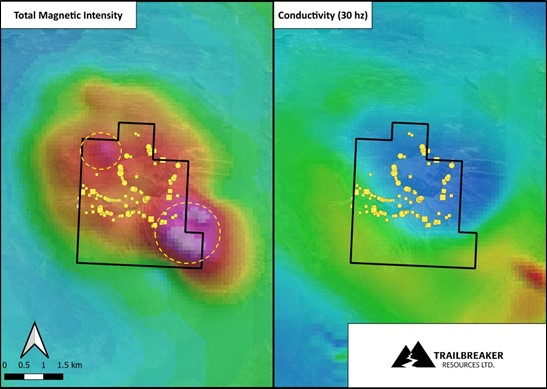 Figure 2: 'Magnetic' pimples highlighted in yellow where strongly hornfelsed sedimentary rocks may overlie blind intrusive centers. No exploration work has been conducted on these targets. Low conductivity (high resistivity) features indicate the presence of an intrusive center at the Sheldon property, as confirmed from regional and local mapping.
Article content
History
Gold-bearing quartz veins were first recognized at Sheldon by the Geological Survey of Canada (GSC) in 1944. In 1990, a regional stream sediment survey conducted by the GSC highlighted multiple drainages with anomalous arsenic and antimony.
The work conducted by the GSC, along with the then-recent discovery at Dublin Gulch (now Victoria Gold's Eagle Mine) in Yukon, resulted in the initial staking of the property in 1991. Between 1991-1993, surface rock and soil geochemical sampling, as well as geological mapping, were completed, targeting Fort Knox style mineralization. Rock chip samples from this work returned assays as high as 6.17 g/t Au 5, from quartz veining in the granitic Sheldon Stock (Figure 3).
Article content
The claims were restaked in 2011, followed by a short prospecting and sampling program conducted in 2012. Rock samples from this program graded up to 2.08 g/t Au 6.
Since 2012, no work has been completed on the property. The Sheldon block is a legacy property originally held by Goldstrike Resources Ltd. Trailbreaker owns 100% of the property with no underlying payments or royalties.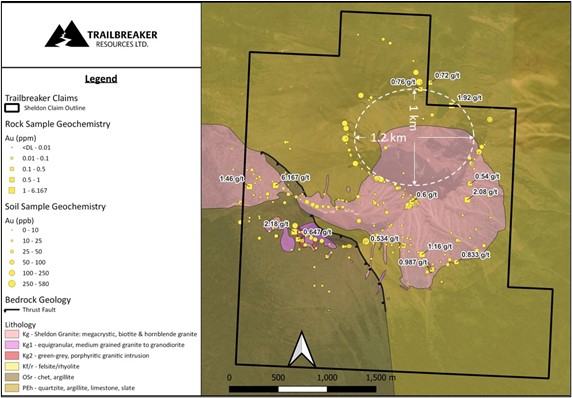 Figure 3: Gold in soil and rock samples overlain on mapped geology of the Sheldon property. Gold shows a strong correlation with the granitic stock and locally the hornfelsed sedimentary rocks. White dashed ellipsoid indicates 1 km x 1.2 km area with limited sampling and elevated Au-Te values in surrounding samples.
Geology
The Sheldon property is centered on the mid-Cretaceous Sheldon stock, a member of the Tombstone Gold Belt intrusive suite emplaced within the Selwyn Basin of Yukon. The Sheldon stock is described as a polyphase biotite granitic to granodioritic intrusion, emplaced during a regional extensional event coincident with emplacement of the Tombstone intrusive suite. Gold mineralization is associated with quartz and arsenopyrite veining within the Sheldon Stock, as well as in hornfelsed sedimentary rocks surrounding the stock.
Article content
The Sheldon property displays many classic features of RIRGS deposits 7, including, but not limited to:
Sheeted quartz veins hosted in a mid-Cretaceous granite;
Intrusive rocks with biotite>hornblende, indicating volatile content of the intrusion;
Constrained size of intrusive stock is favourable for hosting RIRGS;
Strong gold-arsenic-bismuth-tellurium-tungsten (Au-As-Bi-Te-W) geochemical association;
Typical geophysical characteristics (resistivity high and magnetic high around stock) of a felsic intrusion surrounded by a hornfelsed aureole in sedimentary rocks
Future work recommendations
Additional geochemical sampling and geological mapping is recommended to be completed over areas of low sample density, particularly where magnetic 'pimples' occur in the northwest and southeast of the property. This is also recommended to be done along the northern margin of the Sheldon Stock, where a strong Au-Te association is observed.
Article content
A higher-resolution magnetic survey will aid in further defining the hornfelsed alteration zone and granitic intrusive boundaries.
Follow-up drill testing should focus on the most prospective geological and geochemical targets to test for bulk-tonnage RIRGS mineralization in the vertical dimension.
Message from the President
"Adding the RIRGS Sheldon property to our portfolio greatly increases our exposure to potential significant gold discoveries within the exciting Tombstone Gold Belt, with no additional cost to the shareholders. With the recent discoveries by Snowline Gold, which have resulted in an enhanced understanding of the Yukon-based RIRGS systems, we have re-evaluated this target. We are impressed with the similarities, even at this early stage. We feel that the geological characteristics of this project suggest that there is potential for multiple mineralized zones to occur, associated with the Sheldon Stock complex, within our existing claim boundaries."
Article content
ON BEHALF OF THE BOARD
Daithi Mac Gearailt
President and Chief Executive Officer
Carl Schulze, P. Geo., Consulting Geologist with Aurora Geosciences Ltd, is a qualified person as defined by National Instrument 43-101 for Trailbreaker's BC and Yukon exploration projects, and has reviewed and approved the technical information in this release.
Other
For new information about the Company's projects, please visit Trailbreaker's website at TrailbreakerResources.com and sign up to receive news. For further information, follow Trailbreaker's tweets at Twitter.com/TrailbreakerLtd, use the 'Contact' section of our website, or contact us at (604) 681-1820 or at [email protected].
References
1) https://snowlinegold.com/news/
2) https://www.kinross.com/operations/default.aspx#americas-fortknox
3) https://vgcx.com/production/eagle-gold-mine/overview/
4) https://data.geology.gov.yk.ca/Reference/68174#InfoTab
5) Doherty, R.A., J van Randen, J.A., 1994, Report on the 1994 geological and geochemical assessment work on the Mount Sheldon property, Whitehorse Mining District, Yukon, Assessment Report #093220
6) C. Jones, 2013, Report on the CANDO 2 property: 2012 exploration program, Whitehorse Mining District, Yukon, Assessment Report # 096351
7) Hart, C.J.R., 2007, Reduced Intrusion-related Gold Systems, in Goodfellow, W.D., ed, Mineral deposits of Canada: A synthesis of Major Deposit Types, District Metallogeny, the Evolution of Geological Provinces, and Exploration Methods: Geological Association of Canada, Mineral Deposits Division, Special Publication No. 5, p. 95-112
Article content
Neither the TSX Venture Exchange nor its Regulation Services Provider (as that term is defined in the policies of the TSX Venture Exchange) accepts responsibility for the adequacy or accuracy of this release.
Forward-Looking Statements
Statements contained in this news release that are not historical facts are "forward-looking information" or "forward-looking statements" (collectively, "Forward-Looking Information") within the meaning of applicable Canadian securities legislation and the United States Private Securities Litigation Reform Act of 1995. Forward-Looking Information includes, but is not limited to, disclosure regarding possible events, conditions or financial performance that is based on assumptions about future economic conditions and courses of action; expectations regarding future exploration and drilling programs and receipt of related permitting. In certain cases, Forward-Looking Information can be identified by the use of words and phrases such as "anticipates", "expects", "understanding", "has agreed to" or variations of such words and phrases or statements that certain actions, events or results "would", "occur" or "be achieved". Although Trailbreaker has attempted to identify important factors that could affect Trailbreaker and may cause actual actions, events or results to differ materially from those described in Forward-Looking Information, there may be other factors that cause actions, events or results not to be as anticipated, estimated or intended. In making the forward-looking statements in this news release, if any, Trailbreaker has applied several material assumptions, including the assumption that general business and economic conditions will not change in a materially adverse manner. There can be no assurance that Forward-Looking Information will prove to be accurate, as actual results and future events could differ materially from those anticipated in such statements. Accordingly, readers should not place undue reliance on Forward-Looking Information. Except as required by law, Trailbreaker does not assume any obligation to release publicly any revisions to Forward-Looking Information contained in this news release to reflect events or circumstances after the date hereof or to reflect the occurrence of unanticipated events.
Photos accompanying this announcement are available at:
https://www.globenewswire.com/NewsRoom/AttachmentNg/1adb71a6-ce6e-4d22-931f-11390f9342d1
https://www.globenewswire.com/NewsRoom/AttachmentNg/2bb8b517-6432-45e2-8a68-abddde6b6eb6
https://www.globenewswire.com/NewsRoom/AttachmentNg/54363db8-2e65-4732-bcc8-e965cb9deddb