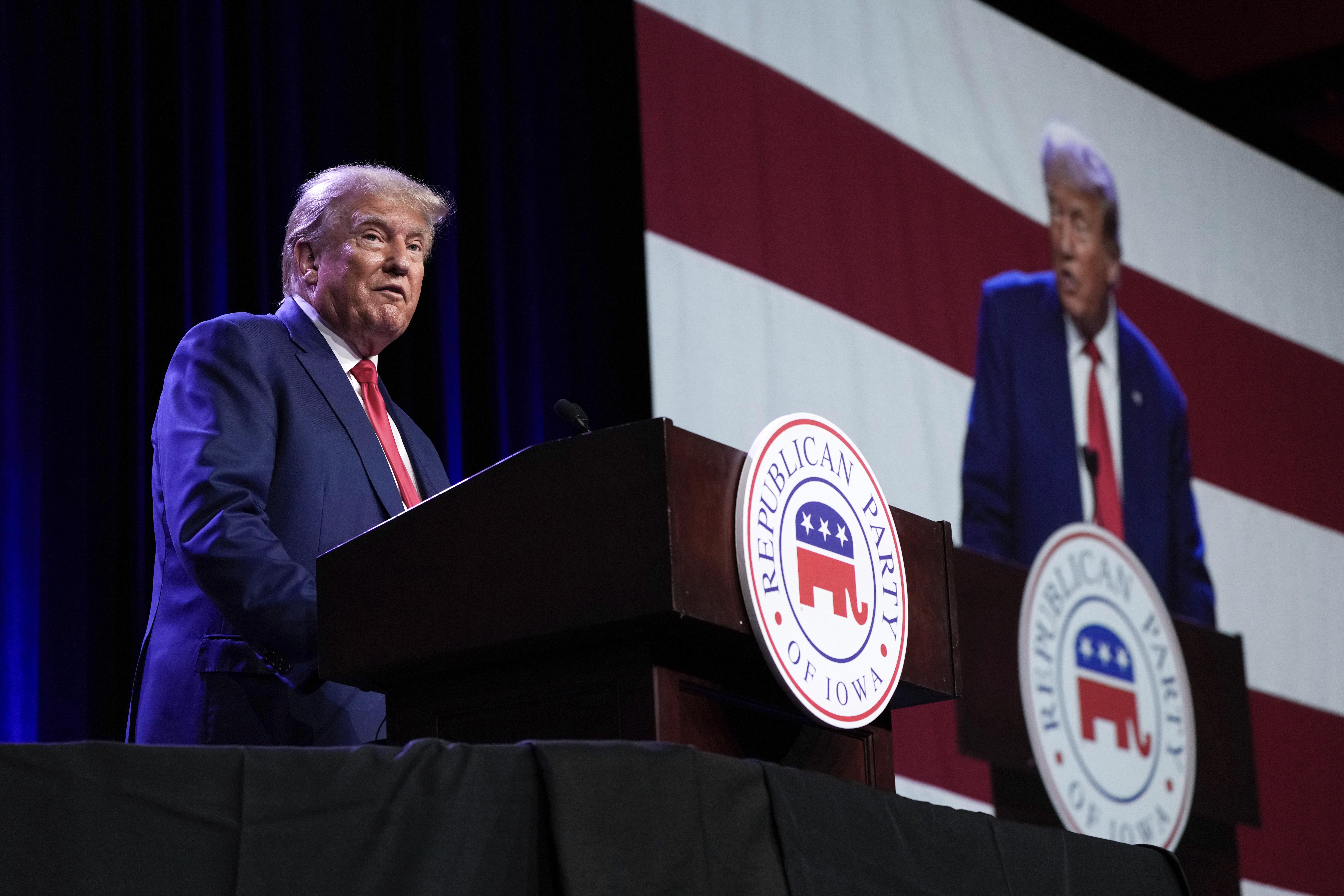 In trademark Trump fashion, the former president responded Saturday with blistering personal attacks on his foes and pushing back hard on the idea that he is running to counter his legal battles.
"In Iowa last night I noticed that a little known, failed former Congressman, Will Hurd, is ridiculously running for President," Trump wrote on Truth Social, his social media platform. "He got SERIOUSLY booed off the stage when he said I was running "to stay out of jail." Wrong, if I wasn't running, or running and doing badly (like him & Christie!), with no chance to win, these prosecutions would never have been brought or happened!"
Four criminal cases are playing out against Trump, including two that have yielded indictments. In New York state, he has been accused of falsifying records in connection to paying hush money to porn star Stormy Daniels, and federal prosecutors have charged him with treating classified national security documents carelessly.
"If I weren't running, I would have nobody coming after me," Trump said at the Iowa dinner. "Or if I was losing by a lot, I would have nobody coming after me."
On Saturday, Trump posted a copy of a friendly letter between him and former President Richard Nixon, who President Gerald Ford eventually pardoned from crimes he may have committed during the Watergate scandal.
Many of his GOP opponents are still treading a fine line regarding a potential Trump pardon. Florida Gov. Ron DeSantis has repeatedly indicated that he would pardon a convicted Trump if he won the presidency, noting in a Friday interview that he would not be "good for the country to have an almost 80-year-old former president go to prison." Mike Pence, Trump's former vice president, has been noncommittal in response to Trump's indictment regarding classified documents and the ongoing investigation around Jan. 6.
On the trail in Iowa Saturday, DeSantis said, "If the election becomes a referendum on what document was left by the toilet at Mar-a-Lago, we are not going to win,"according to ABC News. "We got to focus on what the people are looking for in terms of their futures and I just think in 2024, we won't, we can't have distractions," he added.
Former New Jersey governor Chris Christie, a prominent Trump critic, hasn't minced words on the former president's legal battles. He has insisted that Trump's indictments have arisen come from his conduct. He skipped the Iowa event to focus on his campaign efforts in New Hampshire.
Hutchinson, who launched his presidential run on the principle that Trump could not win another term, described the former president's legal troubles in his speech as a harbinger for the country's future.
"You will be voting in Iowa, while multiple criminal cases are pending against Donald Trump. Iowa has an opportunity to say: 'we as a party, we need a new direction for America and for the GOP,'" Hutchinson said at the dinner.
Trump responded to Hutchinson Saturday with another personal attack.
"Don't weak people like 'Aida' … know or understand that the Prosecution of Donald Trump is an Election Interference Hoax, just like Russia, Russia, Russia, or the Fake Dossier, and that he is playing right into Marxists hands, when I am leading the [Republicans] by 50 Points and leading Biden BIG," Trump wrote on Truth.
Later Saturday, Trump posted: "WHY DIDN'T THE CORRUPT MARXIST PROSECUTORS BRING THESE RADICAL & UNJUSTIFIED CHARGES AGAINST ME 2.5 YEARS AGO, LONG BEFORE MY PRESIDENTIAL CAMPAIGN HAD BEGUN. … THIS IS ELECTION INTERFERENCE & PROSECUTORIAL MISCONDUCT!"