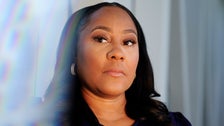 Fani Willis, the Fulton Country district attorney who opened a wide-ranging investigation into Donald Trump and his allies' efforts to undo the 2020 presidential election result in Georgia, said she is on track to deliver a decision on charges by Sept. 1.
Willis initiated the probe in early 2021, following the disclosure of then-President Donald Trump's phone call to Georgia's Secretary of State Brad Raffensperger asking him to "find 11,780 votes."
Willis will seek an indictment before Aug. 18 by a grand jury empaneled this month in Atlanta, The Associated Press reported on Monday.
Willis' investigation has also looked at the fake elector scheme as well as baseless claims of election fraud made by Trump allies, including his former personal attorney Rudy Giuliani.
Willis told 11Alive she is prepared for her decisions to be unpopular with some Americans.
"Some people may not be happy with the decisions that I'm making," she said. "And sometimes, when people are unhappy, they act in a way that could create harm."
Last week, barricades were put up outside the Fulton County courthouse, raising anticipation that charging decisions are near.
Willis said she wrote to Sheriff Patrick "Pat" Labat requesting additional security measures.
"I think that the sheriff is doing something smart in making sure that the courthouse stays safe," she said.
"The whole of the process is now incurably infected," Trump's motion says. "And nothing that follows could be legally sound or publicly respectable."
Trump has already been indicted twice, first in New York over his role in a hush money payment scheme involving adult film actress Stormy Daniels, followed by federal criminal charges over his alleged mishandling of classified documents.
He has pleaded not guilty in both cases.
The former president said he also expects to be indicted in Justice Department special counsel Jack Smith's investigation into Trump's efforts to overturn Joe Biden's 2020 election win.