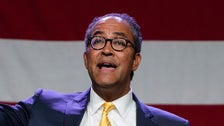 Former GOP Rep. Will Hurd went after fellow Republican presidential candidates who are "afraid to talk" about Donald Trump, claiming that they're "not ready to be president of the United States."
The long-shot presidential candidate called out his Republican rivals on "Meet the Press" after he drew boos and jeers at the Iowa GOP's Lincoln Dinner, an event where he said Trump was running for president again "to stay out of prison."
Hurd told host Chuck Todd that he expected the crowd's reaction and noted a number of people in attendance clapped at his Trump swipe.
"Of course it was as expected, I knew there were going to be people that didn't like it but what I didn't expect was there were a lot of people that actually clapped and then there were more people that just sat there politely and probably understand and knew what I was saying was the truth," Hurd said.
Fellow GOP candidate and Miami Mayor Francis Suarez also referred to the crowd's reaction on Friday, saying Hurd "made it very easy" for him to follow his speech at the event.
Hurd, on Sunday, revealed the "goal" of his speech before taking a dig at candidates "afraid to talk" Trump.
"My goal was not to go in there and talk to the people that have been frustrated when they're told that the person that they respect has been lying to them. I was there to talk to the people that believe in personal responsibility, that believe character matters, that believe service matters, that believe that the United States has a role in the world and it's important to us back here at home," Hurd said.
"Those were the people that I was going to speak to, and also to prove to the rest of the field that we're running for an election, and if you're afraid to talk about Donald Trump or talk about his baggage, then you're not ready to be president of the United States."
GOP candidates mostly avoided direct digs of the former president at the Iowa event.
The 2024 field's hands-off approach toward Trump criticism led New Hampshire Gov. Chris Sununu to question candidates for not being more aggressive last month.
"Anyone who idly sits back and doesn't call him out is only enabling him," he wrote of Trump.