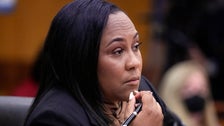 Fulton Country District Attorney Fani Willis, who has said she'll soon decide whether to bring charges against Donald Trump and his allies for trying to subvert Georgia's 2020 election result, said she has received racist threatening emails and voicemails, according to multiple news reports.
Willis urged county commissioners and judges to stay vigilant over the next 30 days as she expects more threats amid mounting tension over the possibility of indictments.
"I am sending to you in case you are unclear on what I and my staff have come accustomed to over the last 2 ½ years," Willis wrote in an email. "I guess I am sending this as a reminder that you should stay alert over the month of August and stay safe."
Willis cited an email she got Friday as an example.
The subject line: "Fani Willis = Corrupt N*****."
"You are going to fail, you Jim Crow Democrat whore," the message continued.
The DA's office and other county officials also have received threatening voicemails, Willis said.
"I have every intention of doing my job," Willis wrote. "Please make decisions that keep your staff safe."
Over the weekend, Willis said she had requested additional security measures from Sheriff Patrick Labat.
"I think that the sheriff is doing something smart in making sure that the courthouse stays safe," she told Atlanta TV station 11Alive after the sheriff erected barricades.
"The work is accomplished," Willis said. "We're ready to go."
Meanwhile, a Georgia judge rejected a motion by Trump to preemptively get Willis' investigation and any future indictments tossed out.
"While being the subject (or even target) of a highly publicized criminal investigation is likely an unwelcome and unpleasant experience, no court ever has held that that status alone provides a basis for the courts to interfere with or halt the investigation," Fulton County Superior Court Judge Robert McBurney wrote in his nine-page ruling.
Willis started her investigation in early 2021, following the disclosure of then-President Trump's phone call to Georgia's Secretary of State Brad Raffensperger asking him to "find 11,780 votes."
Trump, whose 2024 presidential campaign is running low on cash as lawyer fees soak up donations, could face the prospect of yet another indictment in the Justice Department's probe into his attempts to undo President Joe Biden's 2020 win.
Trump already faces felony charges in New York over his role in a hush money payment scheme prior to the 2016 election, and in another DOJ investigation into his hoarding of classified documents after leaving the White House.