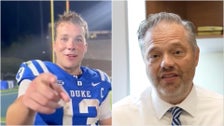 Duke University quarterback Riley Leonard managed to lead his team to an upset victory over Clemson University on Monday night in North Carolina, but that wasn't enough to score an extension from one of his professors.
The Blue Devils beat the No. 9 Tigers 28-7 in Durham thanks in part to Leonard, who had 175 passing yards and 98 rushing yards, including a 44-yard touchdown run.
Unfortunately, his victory on the gridiron may have come at a price for his academics.
The junior had apparently overlooked a school assignment that was due at midnight, and realized there was no way he'd complete it in time.
But as an athlete, Leonard seems to know you miss 100 percent of the shots you don't take. So he recorded a video asking Donald Taylor, a professor of public policy, for an extension.
"Professor Taylor, if you're seeing this, please let me turn in my homework late because it's due tonight, I think at 12. So it may already be 12," Leonard said in the clip, which was shared online.
The professor soon responded with his own video message, but he gave the quarterback's request — pardon the pun — a pass.
"Hey, Riley. Great game last night," Taylor said. "It was so exciting. Congratulations to you and all your teammates.
"But you know Wesley Williams and the other linemen who are in the class? They said they prepared ahead and did it ahead of time, so why didn't the quarterback? So no way, man. No extension."
So far, the exchange is getting mixed reactions on X, the platform previously known as Twitter.
Some people agreed that Leonard should have prepared for the assignment, while others criticized the professor's response.